Starfrit Canada Promo Code: 40% Off Everything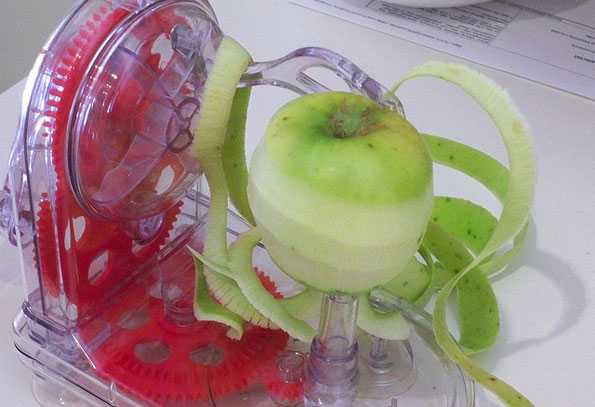 Are you ready for a major discount? Just in time for the Labour Day weekend, Starfrit, also known as Atlantic Promotions Inc., has released a coupon for 40% off everything!
Click here to shop @ Starfrit.com now
Coupon Code: SEPT40
Discount: 40% off everything
Expiry: 1st September 2014
Upon first finding this coupon code, I have to admit that I severely doubted that it would actually take off 40% off the price of any item on Starfrit's site, but I was pleasantly surprised. I tried it first on the new apple peeler and although it usually retails for $14.99, it came down to $8.99. The cheapest I have found it anywhere else is at Canadian Tire and Sears, where both stores have it for $12.99. I have been meaning to get an apple peeler for some time now as I have used a similar one in the past and loved it. The best part about this one is that it features an apple ejector to quickly remove the peeled apple and it also comes with two blades, a core slicer, and a recipe booklet. Plus, the apple peeler itself also has suction cups underneath, so you won't have to worry about it tilting all over the place as you try to peel your apples. With apple picking and apple pie season right around the corner, this is definitely a fall must-have!
Another item that I most certainly recommend is the corded salad spinner. I have this same one and I absolutely love it but what I don't love is that I got it for its full price of $19.99. With Starfrit's promotion, however, you can get it for a reduced price of $11.99. I make and eat salads practically every day and what I hate the most is wet lettuce. Wiping it with paper towels is all fine and dandy but not only does it take longer, but it also uses up too much paper uselessly, but with the spinner, you can simply throw in your wet lettuce and spin it to remove virtually all of the water. I have also used it for spinach and pre-washed salad mixes that come in container just to make sure that it's clean.
There are plenty more items to choose from like canning accessories, cutting boards, graters, and even knives, but another thing that surprised me about the code is that I was able to apply it to sets like the La Forge classic 14-piece cookware set. Originally priced at $129.99, it comes down to $77.99. At Walmart, this same set is $129.
Shipping is free on orders over $75. Keep an eye on upcoming Starfrit coupon codes on the Bargainmoose forum.
(Image Credit: Dale Calder)