Shopping Channel: KitchenAid Architect 5 Speed Hand Blender Now $115.22 (Save $40)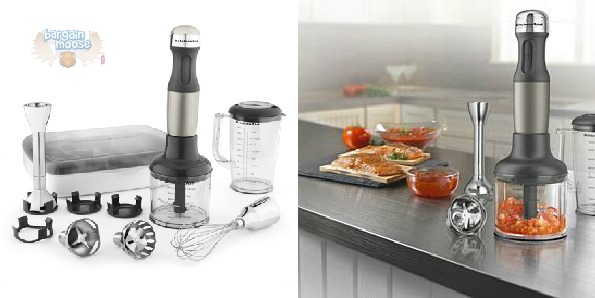 The Shopping Channel has a nice little sale on this deluxe KitchenAid Architect 5 Speed Hand Blender. It is on sale for $99.97 + $15.25 shipping. It's original price was $139.98.
A little price comparison is necessary  I found the exact same set at Sears Canada, but it cost $149.99 there. Even with shipping you are saving $35 off Sears' price. Which is nearly a 25% savings.
This set truly is deluxe because it includes all of this:
KitchenAid® Architect 5 Speed Stainless Steel Hand Blender
2.5 Cup Chopper
Whisk
4 Cup Pitcher
Stainless Steel S-Blade
Stainless Steel Multi-Purpose Blade
Stainless Steel Frother/Beater Blade
(3) Bell Blade Assembly Covers
Removable Pan Guard
Storage Case
I have a simple one of these and use it for pureeing sauces, mashing potatoes, and other stuff. I have seen them used for making salad dressings.
Expiry: unknown