Salton Compact Deep Fryer, $42 @ Hudson's Bay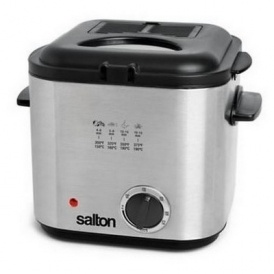 A compact deep fryer would be great to have because it uses much less oil than the larger ones. I don't know how many times we've wanted to use our family sized deep fryer only to find that we don't have enough oil to fill it. A compact deep fryer doesn't take up much counter space.

It would be so easy to heat up the oil and make a quick batch of fresh, hot salted fries with this Salton Compact Stainless Steel Deep Fryer with a capacity of 1.2 L. It's on sale at Hudson's Bay for $41.99. The regular price is $59.99 so you're saving 30%. You can't even pick this one up in store at the Bay, it's sold exclusively online. I noticed that Amazon.ca is selling this item for $55, on sale from $60 so this is a solid sale price.
We get used to eating fries at fast food places but really, there's nothing like home made ones!

Shipping is free on orders over $99, or over $45 if you use your HB card, otherwise will run at around $5.95.
(Deal expiry: Unknown)