Queen 230TC Cotton 5-Piece Comforter Only $102 + 15% Off Of Almost Everything @ The Shopping Channel!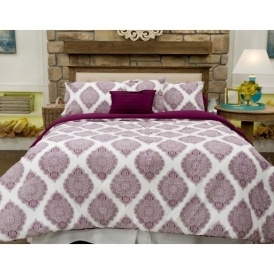 Note: This 15% Discount Ends TODAY, June 5th, at 9:50 pm EST!
Sales are always the best if an item you want to buy is on sale. In this case - you will LOVE this sale because The Shopping Channel is offering 15% off of 'almost everything' on their website. (There are some exclusions that you can read on the front page banner where it states, "Terms & Conditions.")
If you place an item in your cart, you will be able to see whether or not it has been discounted with the 15% discount. You will need to enter the code, SUMMER during checkout, in order to receive the 15% discount.
One really hot buy this Kimberley Seldon 5-Piece 230TC Cotton Sateen Comforter Set , Queen size, on sale for $120, down from $195! After saving $18 using the 15% coupon code, you will receive this set for only $102! Shipping is $12.89. There are 4 shades available in this pretty design, and the comforter is also reversible to a solid colour for a change when you want it. I might buy this one because the cotton fabric is so appealing (to stay cooler in the warmer weather) and so is the price!
Preparing a guest room this summer? Wouldn't these Kiwi Green Kimberley Seldon Luxury 8-Piece Towel Set towels look striking for your guests? The regular price on this 100% cotton set was $86, and they are on sale for $35 but if you use coupon code SUMMER during checkout, you will receive $5 off, for a total of $30 plus $10 for shipping.
You will love poring over the website and finding your own deals for items around the house that you need, or, you may wish to find gifts for Father's Day for someone special in your life!
Shipping and handling varies on each item on The Shopping Channel and is mentioned in the pricing area before you even put the item in your cart. Shipping generally starts at around $7.95.
(Deal expiry: June 5, 9:59 PM EST)