Paderno Canada: 75% Off 11pc Alberton Set (Pots For Eternity) + Other Cookware Discounts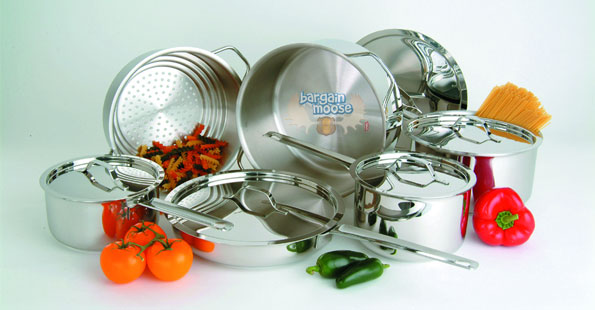 There is an incredible sale going on at Paderno right now, with up to 75% off to be had on cookware, such as the Alberton 11-piece set, which is now on sale for just $179.99 instead of its regular price of $734.
Also dubbed the "Pots For Eternity", the Alberton actually features a professional line of pots and pans made in Prince Edward Island. One of the features that stood out the most to me is their heat conductive bottom, which provides a more equalized kind of cooking.
Although there are plenty of individual pots and pans on sale as well, such as the stainless steel Fusion5 fry pan, now reduced to a mere $65.70 (reg. $219), here are two other sets that you can get a major discount on as well:
Having been in the market for a cookware set for a while now, I have to admit that I'm actually considering purchasing the Fusion5 set myself, especially since this same set is $339.99 at Costco right now. Even better are the numerous 5-star reviews, most notably with the following feedback from one reviewer:
This set is wonderful. I am not a professional but cooking with these makes me a better cook. They clean up beautifully so I am fearless in the kitchen now! What a joy using good cookware is! This set heats perfectly, retains heat, needs less heat, LOOKS gorgeous after many uses, lids fit very well, curved lip makes pouring easy, excellent price, good saucepan size assortment. The non-stick frypan is very good quality. The warranty on all is outstanding.
Even though shipping is free on all purchases over $100, a handling fee of $4.95 will nevertheless apply to all orders.
(Expiry: 2nd February 2014)