Make Any Meal Fun With Fred and Friends Dinner Dos Plates @ Amazon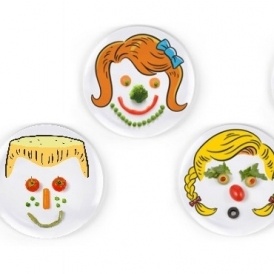 Picky eater? These Fred & Friends plates may make your life a little easier. These Dinner Dos plates come in sets of three, with boy hairdos or girl hairdos. The rest is left to you. Decorate as you please, making unique faces and enticing your child to consume whatever you decide to put in front of them. The boy plates are $23 and the girl plates are $26 at Amazon.ca. Each set comes with three plates.
I can't remember the last time I was able to get my son to eat his peas. Now I know I can make them into eyes or a smile, and I bet he would pick at them and eat 'em up while admiring the design I create on his plate. There are three different hairstyles included in each set, so you can really get creative. Even cover the hair in spaghetti or something of the sort too. Depending on which set you select, boy or girl, you will be paying $7.67 - $8.67 per plate.
Then you can start serving meatballs with a mullet and more. Just select the hairstyle and get decorating. Did I mention that meal prep will now be fun for you as well? The reviews had me sold. One parent mentions that they couldn't get their two year old to eat anything until they started presenting their meals on these plates. I can picture it now, "Hey mom! I am eating his eyebrow!".
These Fred & Friends plates are shipped and sold by Amazon.ca in "Frustration-Free Packaging", ha. You'll need to spend $25 to get free shipping - or have an Amazon Prime Membership.