Lowes.ca: Cuisinart Square Belgian Waffle Maker (Now $75.99 Was $99.99)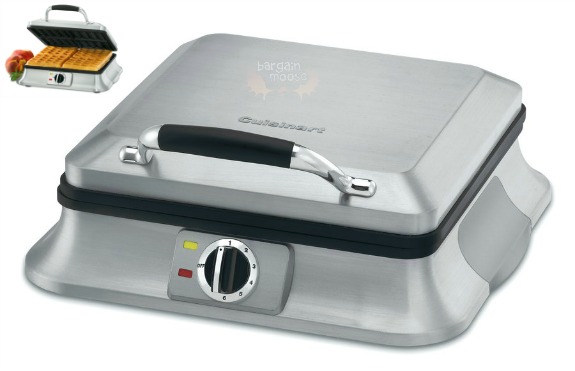 If you are looking for a way to impress your family at breakfast, check out this deal at Lowe's: their Cuisinart Square Belgian Waffle Maker is now $25 off. Plus, use this coupon code (SAVETHETAX) to save the tax till Sunday, making the final price $75.99 (regularly $99.99).
My family loves when I break out the belgian waffle maker. We try to make a big breakfast on one weekend morning, and though this doesn't always happen especially now that the nice weather is here, it's something our children look forward to. It took me a couple of tries to come up with a belgian waffle recipe that worked for us, but once you have the base you'll find that you can evolve from there. Recently I've even started incorporating different flours (coconut, buckwheat), but our stand by is a mixture of whole wheat and white flour.
The waffles are a fun way for the kids to customize a portion of their breakfast. Sometimes we incorporate fresh fruit (bananas, apples, raspberries, strawberries or blueberries, other times my children opt for chocolate chips or a combination of the two. Occasionally we get really crazy creative and incorporate fresh fruit and chococlate chips (bananas with peanut butter chips and mini chocolate chips are a fav). I know, we are w-i-l-d! If I'm going to go to the trouble of making waffles, I always make extra and freeze them. This way I can send half size portions in the children's lunches.
Be sure to do your research on the best way to care for your waffle iron. The model we have only requires us to wipe the griddle clean after each use. Washing waffle irons with soap and water after each use can eventually impact the quality of waffle and the consistency in which you have satisfying results.
Although I don't own this exact model, ours is a Cuisinart and we have owned it for over 16 years without fail. Check out this customer's review on the model featured:
makes excellent waffles every time. This will, of course, also depend on the recipe used but no matter which recipe I try the waffles always come out right. I particularly like the 4-waffles- at a time- feature. This waffle maker gets a lot of workout in our household and doesn't take that much space in the cupboard either.
This item ships via parcel shipping, which is free across Canada, so that's an extra savings. As well, Lowe's offers free in-store pick up: pay for it online and pick up within the hour. However, your local store must have it in stock.
(Expiry: Unknown, coupon code expiry: 29th June 2014)