Lightning Deal: Premium 9-Piece Knife Block Set @ Amazon.ca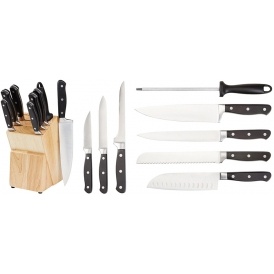 *UPDATE - looks like you can get an additional 25% discount on these if you have PrimeFamily!*
So I've been pretty frank about my lack of action in the kitchen, but here's another thing drives me crazy enough to never go near the place... dull knives! A good, sharp, organized set is everything! But man, can they ever get pricy. I know that there are a lot of "knife snobs" out there at the moment, it's a very trendy thing to be an expert, but this is not me. I just need a good quality, reliable, sturdy set on hand for the jobs I do most—chopping, chopping, more chopping!
Click here to take advance of this lightning deal on Amazon.ca!
Because my family has completely worn through our existing set, I've had my eyes peeled for an affordable new one and today this 9-piece AmazonBasics set caught my eye. People, at $39.99 and free shipping, this is the best deal I've seen on a set in a while, these have certainly never dropped below $50 before now. But it's selling fast... don't miss your chance!
Here's what I'll be prepping with my new knives:
Spring Greens, Avocado and Tuna Salad

You'll Need:

fresh spring greens (enough for two salads)
one ripe avocado
red onion
cucumber
black olives (optional)
raw cashews (optional)
one can flaked white tuna in olive oil
favourite oil and vinegar dressing
Directions:
Thinly slice red onion and cucumbers (as many as you think will satisfy this salad for two) and toss together in a bowl with fresh spring mix. Toss this mixture with a tablespoon of your favourite dressing (store bought or your own creation) and divide into two bowls. Slice up the avocado and place half on top of each bowl. Using a fork divide the tuna in half on top of each bowl, drizzling a little of the oil from the can over the top. Sprinkle black olives and cashews on top of each bowl if desired.
This salad makes the PERFECT lunch on its own, or a wonderful, healthy fresh side dish with dinner. Enjoy!
What's the most important tool in your kitchen?
(Expires: March 21, 2016)