KitchenAid Rebates: Up to $75 Holiday Rebate Offer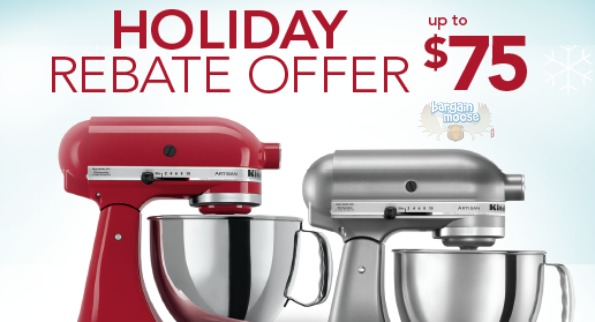 Kitchenaid is offering up to $75 back in rebates for the purchase of various KitchenAid appliances including stand mixers, juicers, blenders, food processors, and stand mixer attachments purchased from the 14th of November through the 9th of January 2015.
It is important to familiarize yourself with the selection of appliances that are eligible for rebate. The companies selling the appliances this holiday season may or may not advertise that these rebates are available. Also, rebates are only available on select models so it would be good to save the model number sheet so you can quickly look up if the item you are about to purchase for a good price qualifies for the rebate. Here is an example of some of the rebates available:
Artisan - All Colours - $50 Rebate
Stand Mixer Rotor Slicer/Shredder Attachment - $20 Rebate
Architect Series KFP1344A & KFP1433A Food processors - $75 Rebate
These are just some of the rebates you can expect to see. Almost all the food processor attachments have a $20 rebate right now. Stand Mixers, depending on what model and series, are eligible for up to $75 back.
The rebate form can be printed off and mailed. However, I found it much easier to submit the form online. You will need to keep the product packaging long enough to cut out the UPC code on the box as it acts as your proof of purchase along with your receipt. You will also need access to a scanner, but the camera on your phone should work just as well. I have filed a couple rebates this way and it saves on the cost of a stamp.
If you bought any Kitchen Aid appliances for Black Friday, make sure you still have the boxes for that UPC code, as you will need it. You will need to enter the date of purchase, retailer and the product you purchased by description, model number and UPC code in the form and then provide scans of the UPC code and the receipt as well.
Overall, the process is simple. Together with fantastic sales around the holidays, you really can score quite the deal on KitchenAid. This is exactly how I managed to purchase an Artisan stand mixer for $170 after rebate.
All claims must be received by the 9th of February, 2015.
(Expiry: 9th January 2014)