KitchenAid 12-Piece Stainless Steel Cutlery Set $60 @ Costco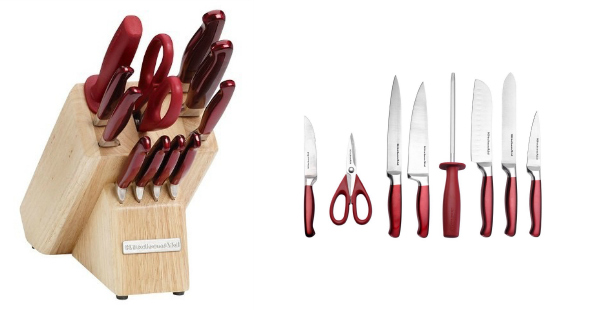 I was trying to cut a tomato the other day and couldn't do it without crushing the delicate fruit/vegetable and decided we probably need some new knives. Since I don't normally shop for such things, imagine my surprise at the crazy prices of some of the brand name sets. I stumbled across this KitchenAid 12-Piece Stainless Steel Set with block at a few different retailers and quite liked it but it was as much as $440 at Canadian Tire (hoping that's some sort of pricing error but the comments lead me to believe otherwise). I then found it at Costco.ca for just $59.99 with free delivery.
Click here to purchase the KitchenAid 12-Piece Stainless Steel Cutlery Set @ Costco now
I could certainly live with the $60 price point given that KitchenAid stuff is usually pretty great and definitely high-quality. If the red colour scheme fits in with your decor at all, this is a really great buy! Or a hot buy as Costco has it labelled.
The set consists of the following implements:
8" chef's knife
8" slicing knife
utility knife
paring knife
santoku knife
4 steak knives
kitchen shears
sharpening steel
Natural block
The high carbon stainless steel is meant to hold an ultra-sharp edge and the handles are contoured so they're comfortable to hold and don't slip out of your food-covered fingers.
Costco.ca appears to only offer the set in the red  but I think it'll add a fun punch of colour sitting on our countertop, next to the stainless steel appliances.
Along with the Canadian retailers, I found this set for sale for $70-$80 US, as well. Costco will ship to your door for free so there's no extra charge to worry about, either.
(Expires: Unknown)