Kitchen Stuff Plus Coupon Code: 40% Off EasyLock Storage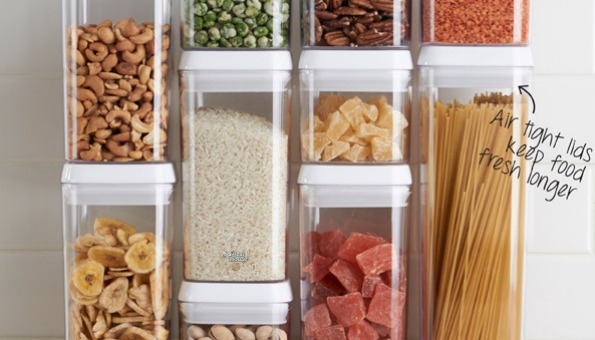 KitchenStuff Plus is offering 40% off all easylock storage containers of varies sizes this week. Use the following coupon code to receive your discount online. For in store use, print of the included coupon as well.
Click here to shop Easy Lock containers @ KitchenStuff Plus now
Coupon Code: LOCK917
Discount: 40% off easylock containers
Expiry: 28th September 2014
If you have a local Kitchen Stuff Plus store, then print off the following in store coupon and take it with you. The printable coupon is only valid on in-stock easy lock containers (no rain checks).
The discount is off the regular price. Right now, the containers are 25% off, which is not combinable with this coupon code. Instead, you will receive 40% off.
I am a huge fan of containers that can be used for simplifying organization. I currently use large mason jars for baking goods and small glass jars for my spices. Unfortunately, they are not stackable and the shape of the mason jars is not very space efficient as the bulge at the bottom and tapper towards the top. They tend to take up a great deal of space since they cannot be organized upwards, only side by side. That is why these easylock containers from Kitchen Stuff Plus really appeal to me. You can stack them on top of each other and create a wall of goods. While I love my mason jars, they also only came in a couple sizes whereas the easylock containers come in many different sizes that I can use for a variety of items.
This KSP Easylock 1.7L Acrylic Canister with Locking Lid (Clear) costs $8.99 regular price. After coupon code, pay just $5.39. Load it up with pasta noodles, carrots, or celery sticks. I could put an entire box of spaghetti in there!
The KSP Easylock 1L Acrylic Canister with Locking Lid (Clear) was $7.99 and comes down to $4.79 after coupon code. I would buy several of these for my baking supplies. They could hold raisins, chocolate chips, walnuts, almonds, shredded coconut, and more. There are many different sizes of containers to choose from and you can mix and match to fit your needs. Use these to organize your kitchen, your office, or your children's art supplies. You could even use these in your garage.
Receive free shipping on $75 or more. Shipping under $75 depends upon your order size and to where you are shipping. For future Kitchen Stuff Plus coupon codes, visit our forum.