Kitchen Essentials Under $10 @ Kitchen Stuff Plus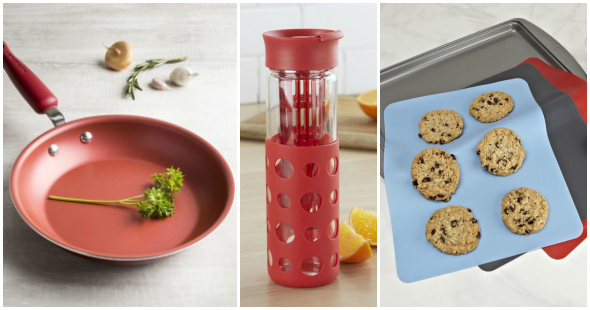 Kitchen Stuff Plus has some red hot deals going on this week that I wanted to share. They have very reasonable prices to begin with but each of these items is at least 40% off and less than $10 until Sunday.
The KitchenAid Classic Metallic Non-Stick pans comes in 3 pretty colours and, at 66% off, is just $9.99!
If you bake at all, you need silicone baking sheets in your life. Don't let those cookies get stuck to the tray one more time! I've seen these for more than $30 but you can grab a Flux Silicone Baking Sheet for only $4.99.
I love these Flavour Up Glass Water Bottles with Infuser. We all know we're supposed to drink what seems like our weight in water every day but plain ol' H2O gets so boring. With these bottles, you throw some fruit in the infuser and have naturally flavoured water without any added sugar or artificial sweeteners. Try raspberries and a slice of lemon or cucumber and a mint leaf for a refreshing taste. There's a rubberized grip to protect the glass and 5 funky colours to choose from. They're just $7.49 each.
Expandable Over the Sink Strainers are fabulous. They're great to have set up when you're making a ton of pasta or washing lots of fruits or veggies at once (I always use mine for broccoli crowns and berries). This one is far more stylish than the plastic one I've got and it's only $9.99.
Check out the rest of the deals for more handy things under $10. Kitchen Stuff Plus offers free shipping on orders of $75 or more; costs vary for orders under that mark - they charge only what Canada Post charges according to shipping weight and location.
(Expires: 21st February 2016)