Items From $1 And Up - Extra 25% On Any Single Reg. Priced Item + Free Shipping @ Linen Chest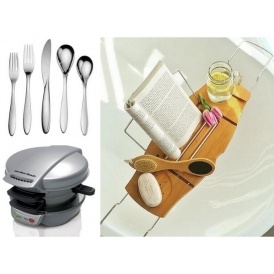 You can make your own sale at Linen Chest by saving an extra 25% on any single item at regular price at LinenChest.com! They are also throwing in free shipping today only on all orders with no minimum purchase required. This makes for one sweet deal. You will have to use code EXTRA25 during checkout to be able to receive the discount on one item.
Since often items such as bedding, towels and more go on sale I think the first place one should be looking would be the small kitchen appliances and gadgets, otherwise knows as the 'electrics' department.
Right out of the gate I found a 'specialty product', a Salton Portable Induction Cooker. I've wanted one for so long, ever since seeing those food videos all over the internet. I always assumed it was only to be used for college students, etc. who needed a stove top but it is much faster to heat/cook foods than traditional stove top burners (and can give you an extra burner when you need one.) It's energy efficient too. The regular price is $99.95 so with this special savings today, I'll be saving $25 and paying $75.
Another cool item that's on for a decent price is this Hamilton Beach Breakfast Sandwich Maker. I have one myself and use it a lot. I actually wondered why a person needs it but it does a great job crisping up an English Muffin properly and also sort of melds the sandwich together. The regular price on this is $29.95 so with your 25% discount you'll be paying $22.46 and that's the lowest price I've ever seen this.
I'm sorry to tell you, there is no answer to wear missing flatware goes. I don't know why 'they' haven't done more research into this. So it is, I am buying my third round of flatware in about 5 years. With 25% off of the regular price I can buy something awesome! Such as, this Splendide Bon Vivant 20pcs Cutlery Set that's selling for $69.95. With the 25% discount I could buy it for $52.46.
Ring holders are handy and these ones are cute - They're $7.95 and of course you can get your 25% discount if you so choose. That cuts the price down to $5.96.
The best gift of relaxation you can ever give is right here. Regularly priced at $49.95 it will cost $37.46 with your 25% discount off of one single item.
No need to worry about shipping costs, the order will ship free today when ordered today, only!