iCoffee Express Single Serve Brewer Now $37 @ Bed Bath & Beyond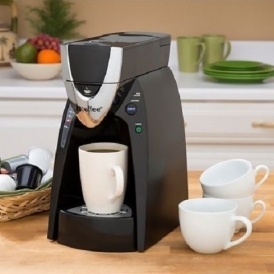 About this time of the day I find I really need a cup of coffee. Do you find that you rely on coffee more in the morning, or after your work day so that you can keep up with the kids? Either way - you'll want to check out this deal on the iCoffee Express Single Serve Brewer which is on sale at Bed Bath & Beyond for $36.99 down from $99.99.
The iCoffee Express Single Serve Brewer is compatible with all K-Cup, OneCup, RealCup capsules as well as private label cups - at 1/4 the price of other machines. This brewer will do everything except add the cream and sugar! I usually add those first, before brewing my coffee - for a rich and creamy taste. The brewer will steam, spin and stir your coffee right inside your cup.
You can even select different sizes of cups and strengths of coffee to personalize each and every cup of coffee (or other hot beverage) to your preferences. If you want, you can even use any coffee grind of your choice with the iCoffee Reusable iCup. We have this for our Keurig machine, and it is wonderful. We can literally buy our favourite blend (Starbucks Blonde) and add the grinds to the cup to make our coffee. It is a less expensive option (compared to K-Cups) and a lot of our favourite blends don't cup in K-Cup form.
BedBathAndBeyond.com offers free shipping on orders over $99, but you can also reserve online and pay in-store with free pickup if you prefer. If you don't get your cart to total $99 but still want the item shipped to you, you'll only pay $6.99 for shipping on this particular purchase.