Heritage 9-Piece Cookware Set 60% Off @ Sears Outlet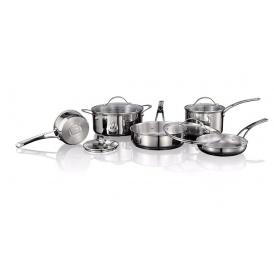 Who's cooking Easter dinner? I am not the cook in my family, but I do loooooove me some pretty kitchen gear. I also, incidentally, love to read cookbooks and imagine how easy it would be to pull off all the yummy recipes. Never happens, but I do pass along my favourites to my very talented-in-the-kitchen husband.
On big occasions where lots of guests are involved I am enlisted to help. I'm the gravy-maker, the potato-masher and table-setter. I also handle most of the clean-up so let's just call it fair and square, shall we? I'll tell you what, though, I think I'd be a lot more eager and happy to try my hand at more cooking if there was a shiny new pots and pans set in the mix!
Here's the secret to my famous mashed potatoes—ranch dressing! Add a splash to your basic creamy mashed potato recipe, sit back and wait for the praise and adoration!
This set was regularly $499 and is now selling online for $186.94! That's a deal that even a non-cook like me can get behind! Hurry, I'm guessing these won't last long. Shipping is free on orders over $99.
Give us your mashed potatoes secret, Moosers!
(Expiry Unknown)