Future Shop Canada: Hamilton Beach Convection Toaster Oven 31509C | Was $63 Now $30 (EXPIRED)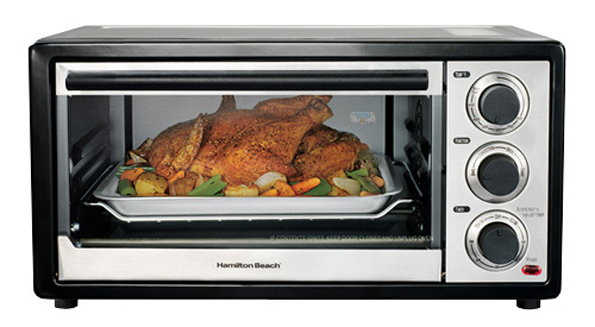 Good afternoon, my fellow Bargainmoosers! Today, Future Shop has their Hamilton Beach Convection Toaster Oven (31509C) on sale for only $29.99. It normally costs $62.99, which is actually pretty decent when compared to its price on other websites (feel free to read the rest of this post to find out how much it costs on Amazon and Shop.ca). You'll also qualify for free shipping with your order.
If you're looking for a useful counter top appliance, this non-stick 6 slice convection toaster oven/broiler may be the perfect machine for you. It even has an auto safety shut off feature, and a removable crumb tray.
As a teenager and young adult, I constantly used my toaster oven. My family never had one until I was a teen, so when we did get one, I used it on a regular basis. I ignored our toaster (which was eventually sold at a yard sale), and just used our toaster oven for most of my oven-related needs. It was especially handy when I'd buy some frozen foods or cookie dough after a long day at work! I really enjoyed using that toaster oven, it was just so convenient.
This Hamilton Beach Convection Toaster Oven currently costs $96.77 on Amazon, and it's $79.99 on Shop.ca. Listed below is a snippet of a review of this toaster oven from a satisfied Amazon customer:
I'm pleasantly surprised by this toaster oven. We bought this for its compact size as we have limited counter space. We had low expectations but after 3 years it's still working like it did when it was new. It doesn't have a lot of features or bells and whistles and it doesn't quite get as hot as our last toaster oven but it cooks fish steaks and chicken breasts for 2 people flawlessly (we use it like an oven) and it even toasts bread evenly too!
This deal will expire on October 2nd, so if you're in the market for a new toaster oven, perhaps this Hamilton Beach Convection Toaster Oven would best suit your needs. Happy hunting, Bargainmoosers!
(Expiry: 2nd October 2014)