Frigidaire 5-in-1 Panini Grill Now $70 (Was $160) @ Sears.ca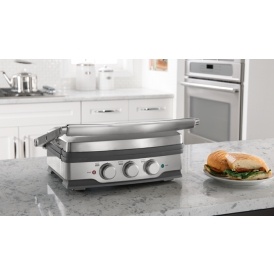 *UPDATE: This is currently sold out online, but available in-store at some locations. You can check stores near you using the "Search Stores" feature at the link below.*
Paninis can go one of several ways—healthy, delicious or totally sinful. Panini grills typically have sky-high prices though, which is why we are lucky to have found this deal at Sears Canada. Act fast and get this Frigidaire Professional 5-in-1 Panini Grill on sale from $159.99 down to just $69.99. There are a couple different shipping options too. Stay tuned for my favourite panini recipe at the bottom of the post as well.
This offer says that the price will remain this low until March 23rd, but do you really think it will last that long? I would venture to guess that this panini grill will sell out quickly at this price.
This Frigidaire 5-in-1 Grill won't just satisfy your cravings for paninis! You can use it to make bacon, burgers, or virtually anything that you set your mind to. Oh the possibilities. I personally prefer something simple and tasty that both the kids and I can enjoy. This is one of my all time faves—Bacon, Cheddar and Grilled Tomato Panini.
I don't use all of the ingredients listed there, but I do use the tomatoes, pepper, butter, sourdough bread, bacon and my favourite cheddar cheese. So feel free to follow the directions as listed, or follow mine for to keep it simple.
When ordering through Sears.ca you really have two options. First, you can spend $99 and get free shipping right to your front door. Second, you can opt for pickup at one of the 1300 Sears Canada pickup locations - which is totally free with no minimum purchase.
Moosers, share your favourite panini recipe with us in the comments below!

(Expiry: 23rd March 2016)