Fred & Friends Airplane Fork $13 @ Amazon.ca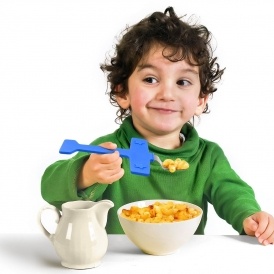 I am tempted to purchase this for myself! I know my son would love this Fred & Friends Fork One Kids Utensil - would your kids love it? It is $13 at Amazon.ca - which is great considering the next best price in Canada is $16 USD plus shipping. Money aside - this little airplane fork may become your new best friend at meal time. I bet you can even get most kids to eat their peas (or fly trying).
Picky eaters can be very hard to contend with, and you want nothing more than for them to finish their dinner. This Air Fork may make it that much simpler. Your kids will love pretending their fork is an airplane, and you may be surprised at how much food actually ends up in their mouth now (and potentially on the floor as well - mayday, mayday).
Reviews are great on this item - with notes that you'll want to pay attention to as well. This utensil is not dishwasher safe, and some Amazon customers state that they have had these cutlery pieces for years without fail. Others say that they have never had an issue with using the dishwasher on this item, but I would rather be safe than sorry especially if this does end up being the key to your child's lock of an appetite.
This Fred & Friends product is shipped and sold by Amazon Canada. Amazon.ca throws in free shipping on orders over $25 - but Amazon Prime members can enjoy included shipping with no extra requirements on this purchase.