Corkcicle Bottles & Accessories on Sale from $5.60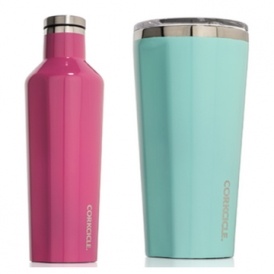 I've been hunting around for a new water bottle, and I think I might have found one! Corkcicle bottles and accessories come in ridiculously cute colours, and they're on sale from $5.60 at Well.ca!
These triple-insulated, stainless steel bottles will keep drinks ice cold for up to 25 hours or hot for up to 12 hours without freezing or sweating.
All Corkcicle bottles have a mouth wide enough to fit standard ice cubes (so you can keep those drinks cold for even longer). The sides are easy to grip, and the bases are designed to keep them from slipping.
Here are some of my favourites:
Bottles
And don't forget to grab a couple accessories, too!
Orders over $35 ship free.