Black & Decker 3-Tier Digital Steamer $29 @ Walmart.ca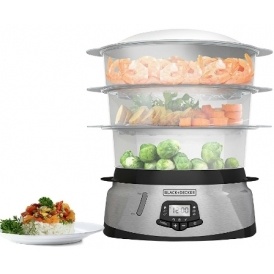 Looking for an easy way to get some veggies into the hubby and kids? With the Black & Decker 3-Tier Digital Programmable Steamer you can make three different kinds at one time. Right now Walmart Canada has this nifty gadget on clearance sale for $29 down from $54.96.
What I love about this Digital Steamer is that you can set the timer so your entire meal ends up finished at the same time. If you have a Crock-pot, that means you can literally set up your meal before you leave the house and everyone can come home to a meal made. Isn't that crazy?! Count me in!
Spend $50 or more to get free shipping from Walmart.ca. Orders over $25 (like this) can also get free pickup at your local Canada Post Office or Walmart Grab & Go Locker.