Beyond the Rack: Kitchen Favourites Up To 50% Off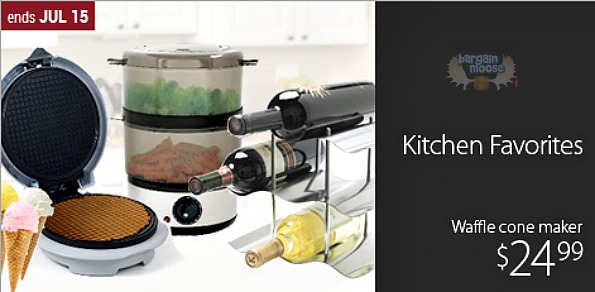 I am someone who loves to cook, so I am always looking for the newest and coolest kitchen products out there.  Beyond the Rack has a great sale on right now of kitchen favourites for up to 50% off.
There are a huge variety of items to choose from from: smaller kitchen gadgets to small appliances and even kitchen trolleys.  One of the fun kitchen cooking tools that I want to grab is this Chef Buddy Food Steamer that was $49.99 and is now just $19.99.  I have priced these out before and this is a great deal! I also love this Four Piece Canister Set that was $45.99 and is now $29.99.  How smart is it to have stainless steel spoons attached to it so that you are not looking for something to get the ingredients out!
One of the fun gadget-type products that is so cool is this Smartware Cookware Stencil Decorating Set that was $15 and is now just $9.99. It has eight pieces and is perfect for the person that likes to make birthday or special holiday baking items.  You can stencil the decorations right on, easily making your baking look like it was professionally done.
As for the cost of shipping, it will depend on how much and what exactly you purchase. The great thing is that if you find something else you want to buy later in the day, there will be no additional shipping charges because you will only have to pay one shipping charge per day.
(Expiry: 15th July 2013)