Bamboo Index Cutting Boards (Set of 4) Now $36 Shipped @ Amazon.ca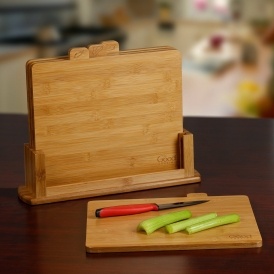 I did not know that cutting boards could be this organized - and I am excited! Today, Amazon.ca has the Bamboo Index Cutting Boards on sale for $35.99. Now, that is 20% off but these cutting boards are going to quickly become a kitchen staple. This is a Lightning Deal, so it expires tonight at midnight if it doesn't sell out before then.
This deal seems to be selling out quick! It is already 14% claimed at the time of writing this post. These Index Cutting Boards are made of all natural bamboo. They are by Good Cooking and there are a total of 4 index boards - for meat, poultry, fish and produce.
They are indexed to prevent cross-contamination which is pretty cool! They are also easy to wash, which is definitely a bonus if you have kids. Who wants to scrub a cutting board!? Not me! The stand is included, so you can easily store the cutting boards on your counter tops for ease - or in your cupboard. The stand has a non-slip bottom too. Sounds nifty! The reviews also look great, so I think this is a great buy for sure. I know I've been looking for something like this, as I do specify which cutting board is for what in my house but my other half never seems to remember my code!
This Lightning Deal is sold by River Colony Trading and fulfilled by Amazon.ca - so since it is over $25, you will get totally free shipping.
(Expiry: 15th June 2016)