9 oz S'well Bottles on Sale for $19 @ Fenigo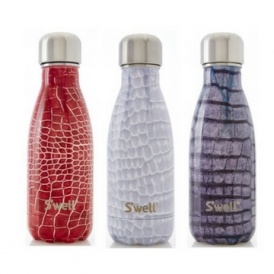 This is one of the best deals I've seen on S'well bottles yet! Right now at Fenigo, you can find all different styles of the 9 oz insulated bottles on sale for $19 each, down from $38!
If you're not a S'well superfan yet, sales like this are the perfect chance to try their bottles out! And if you are a S'well bottle devotee, this is an awesome chance to add a few more to your collection!
All these bottles are insulated by non-leaching, non-toxic and BPA-free stainless steel that keeps drinks cold for up to 24 hours or hot for up to 12. Plus, they're vacuumed-sealed and perfect for keeping carbonated drinks bubbly!
Here are all the sale bottles you can choose from:
Aubergine Alligator
Blanc Crocodile
Rouge Crocodile
But my favourite design has to be this Sailcloth S'well Bottle!
These bottles are all final sale, but at this price, you definitely can't complain!
Orders over $97 ship free. Other orders are subject to a $7.99 plus tax flat rate fee.