Kids Clearance Items Starting At $2 @ Sears Canada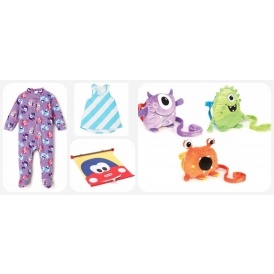 Every once in a while I like to browse the Sears Outlet section on their website —sometimes there are some pretty killer bargains to be had there. While taking a browse today, I noticed that the kids' clearance items start as low as $2, with discounts of up to 70% off, the prices already reflect the discount so you just have to do the shopping.
Also don't forget the Sears Canada coupon codes I mentioned yesterday. To get $20 off $100, use the code 941612673 at the checkout process and to get $50 off $200 use the code 941612674 at checkout. Okay, let's start browsing the sale items shall we?
So the lowest priced item also happens to be one of the most useful. If you don't already have a few Safety 1st Securetech Cabinet Locks then you should definitely grab a few (or 10). These things have successfully locked away my chemicals and glass ware so I can rest assured that my son isn't getting into them. Plus, they are 60% off right now so you will pay just $1.94.
You'll also find quite an assortment of kids' clothing starting at $2.94 - this may be a perfect opportunity to spruce up the kiddo's spring or summer wardrobe.
Another item that definitely spoke to me would have to be the Nuby Plush Backpack Harness. They are on sale for 45% off - leaving you to pay just $11.94. There are three available: orange, green and purple. While I don't condone using a harness on your kid everywhere you go, I have used one when I brought my little one to the zoo when he was two so that he didn't get lost or hurt. Would you use one?
Shipping is pretty simple. Sears.ca offers free shipping to your door on orders over $99. Otherwise you can opt to pickup your purchase for free at one of the 1300 Sears Canada pickup locations across our beautiful country. There is no minimum purchase required to use their free in-store pickup.
(Expiry: While supplies last)