It's Not Too Soon! Swimwear for Kids from $10 + Free Shipping @ The Children's Place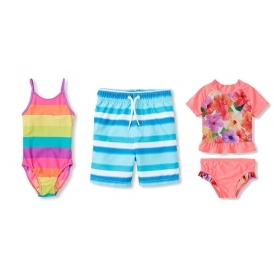 It happens to every year. I see the swimwear hit the shelves but look out the window at snow and think, too soon. And then, before I know it summer is upon us and do you think I can find swimwear for the kids? Nope. All gone.
Lots of style and sizes are still available for both toddlers and bigger kids. All are available at 50% with FREE SHIPPING until April 27, but sizes will go quickly!
Here are just a few of my favourites:
Girls Rainbow Striped one-piece—perfect for swimming lessons! Just $15
Toddler Boy Island Swim Trunks—love the stripes and colour! Just $10
Toddler Girl Short Raglan—I love two-pieces with tee's for toddler girls, makes bathroom breaks SO much easier on both of us! Just $12.50
Browse through the toddler girl, toddler boy, girl and boy section to find other swimwear and accessories for 50% off as well. There are terry cover-ups on for $13! We never go to the beach or swimming lessons without ours.
Don't forget, shipping is free until April 27th, but sizes may not last! Don't miss it.
(Expires April 27, 2016).