Items From $2.26 Shipped @ Puma.ca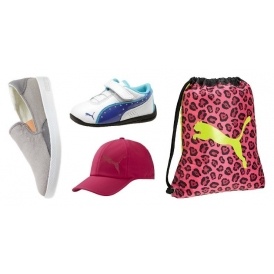 Here's an online offer that you won't want to miss! Today, Puma Canada has up to 70% off in their sale section, plus totally free shipping on all orders. That means you can get items as low as $1.80 USD ($2.25 CAD) with free shipping. I see some spontaneous purchases heading my way!!
I like to shop at Puma.ca when they offer their free shipping on all orders for sure. Even though the prices are in fact in USD, you won't have to worry about any duty fees at your door.
I went to the kids' section first of course. I actually like the gym bags they have - I would probably use one for myself. The Neon Jungle Gym Sacks are on sale from $16 USD down to $8 USD ($10.03 CAD) and they are available in multiple styles. My favourite has to be the pink leopard print! For kids, I also like the Drift Cat 6 Diamonds V Kids Shoes which are on sale from $35 USD down to $17.50 USD ($21.94 CAD).
You will also want to grab a Form Duffel Bag if you plan to do gym trips or any sort of weekend trips this summer. This bag is on sale for half price, so it has gone down from $40 USD to $20 USD ($25.08 CAD). This bag is available in black, pink and yellow but I personally prefer the pink!
Shipping is free on all orders today. Don't forget that prices are in USD, but you won't be charged anything extra at your door.
(Expiry: 28th April 2016)