Free Express Shipping @ Puma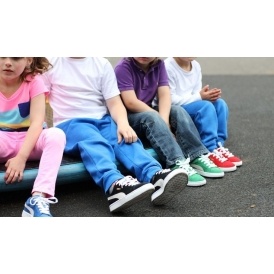 Hey Puma fans! Today is your day. Shop at Puma Canada for Leap Day and you will get free express shipping when you use the coupon code LEAPDAY at the checkout process. This offer is valid today only though, so reap the benefits and check out their sale section!
Also make note that the prices you see on the Puma Canada website are in USD. You won't be hit with duties at the door though. So of course the first direction I headed was the kids' sale section. My little boy looks so darn adorable in anything Puma. In the kids' sale section, prices start as low as $9.
Core Closed Mesh Shorts are going to be a must-have as the warm weather reaches us. These shorts are available in three colours and are on sale from $16 USD down to $9.60 USD ($12.97 CAD).

You can also score the No. 1 Logo Long Sleeve T-Shirt (4-7) on sale from $18 USD down to $10.80 USD ($14.60 CAD). This shirt is available in two colours: Black or Red. There is also the girly version, the Long Sleeve T-Shirt (2T-4T) for the same price. I could go on and on about the sale items at Puma.com right now, but your best bet is to head on over and have a look for yourself. You're bound to find something you need here whether you are shopping for the kids, your hubby or even yourself.
The code LEAPDAY to get free express shipping (3 day shipping) is only valid until midnight tonight, so I wouldn't hesitate to use it. You'll also want to keep in mind that the Puma prices are all in USD.
(Expiry: 29th February 2016)