Cute Canada Day Clothing from $5 & Free Shipping on Every Order @ The Children's Place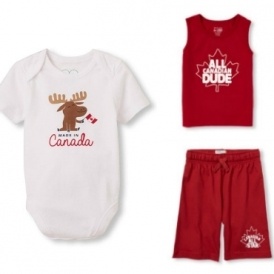 With Canada Day approaching, and The Children's Place is in the midst of another big sale (including offering free shipping on each and every order), I did a search for some Canada Day-inspired outfits and found a whole bunch of great stuff! All I did was search 'Canada' in their search field--easy as that!

This super sweet Made in Canada Bodysuit for baby has a (Bargain)moose pictured on it! It's down to $7.77 from $12.95. This Maple Leaf Stretchie is $11.97. There are dresses and rompers for toddlers for just under $15 and this great Made in Canada, Eh? Romper and Bucket Hat Set is just $19.19 from $36.95!
There are lots of cute accessories, too. Boys' Canadian Flag Flip-Flops are just a toonie and the glitter style for girls' are $4.46. Maple Leaf Baseball Caps are $7.77 and this adorable Maple Leaf Print Fedora is just two cents more.
The Children's Place is offering completely free shipping until June 7th!
(Expires: 7th June 2016)