25% Off PJs for Babies and Kids @ Souris Mini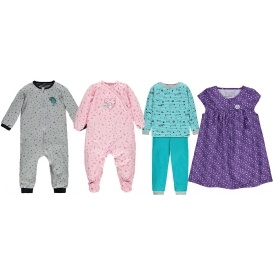 Starting today for the next four days you can get the most adorable, quality, huggable PJs for your babes from Souris Mini. I'm a bit of a jammie snob because my family pretty much lives in ours. I hauled my babies about town in footies until they were well beyond the age most people still do so, and even now when it's PJ day at school for my 8-year-old I get more excited than she does! Jammies to school? Living the dream!
Souris Mini pays attention to their PJs! They are soft, comfortable and most importantly long lasting. These are not going to shrink or get stiff after laundering. The only problem you might have? Getting your kids to take them off!
I love one piece jammies with feet for babies, except my youngest daughter is huge and never really fit them comfortably. I discovered these particular pajamas because they have cute one-piece styles without feet, which can be really hard to find. The two-piece sets for bigger kids are cosy and my big girl is all about the pretty nightgowns.
This sale is only on for four days so don't miss out. And guess what? We've got an exclusive code for free shipping on orders over $40. Just use code MOOSESHIP at check out.
Does your family live in their PJs too?
(Expires: March 27, 2016)