Whalen Furniture Courtland Desk Now $73 (Was $164) @ Amazon.ca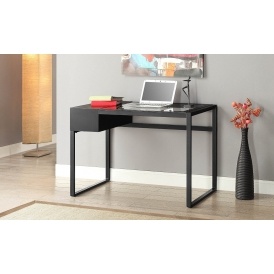 Oh thank goodness! Amazon has read my mind again. Just this morning my computer desk started to form a wobble which gave me this "sea-sick" feeling while working. I've just discovered this Whalen Furniture Ecom-Crtcd Courtland Desk on sale at Amazon.ca for 55% off - and what a steal! Snag this desk for $72.64 shipped.
This desk would look great in any room set up. It has a nice cherry-finish in combination with a nice modern and sharp design. The top is tempered glass, and it even has some storage area and a large work surface. This desk is going to be totally perfect for my new office, and I can't wait.
One thing that does catch me a little off guard, is that this item has absolutely zero reviews on Amazon.ca. I took to the worldwide web and still found no results for reviews, but I can tell you that this is a phenomenal price. The next best price I could find on this desk was $149.99 USD at OfficeDepot.com. So you still have yourself quite a deal, and I hope I am not disappointed with the quality or anything.
This item is shipped and sold by Amazon.ca, so since it is over $25 you will have your shipping and handling charges included. That is a pretty significant deal sweetener when purchasing an item of this size for sure.
(Expiry: Unknown)