Wentworth Entryway Bench, $199.99 Includes Free Shipping @ Costco.ca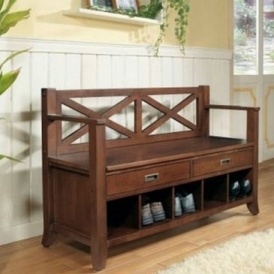 Summer is here so we aren't seeing the deluge of backpacks hitting the floors and hanging precariously off of coat hooks high up that will come all too soon, when the fall season hits.
Here is a solution that you can definitely use. The design of this Wentworth Entryway Bench that also has storage space underneath and in drawers is simple yet beautiful. There is something so remarkable about an all wood piece of furniture. There are no cushions to get dirty and you can easily wipe it clean.
You can store items in it to help to declutter the front or back entryway. You can sit down to put shoes on. (Ideal for kids who are learning to tie shoes, or for when Grandma and Grandpa come over to visit.) Grabbing keys and other essentials in the morning is easy when you can store them in the pull out drawers.
You can see for yourself that this entryway bench is gorgeous, and the price which includes free shipping, makes this a hot buy.
(Deal expiry: Unknown, or while quantities last.)