Walmart Canada: Twin Pine Bunk Bed Only $178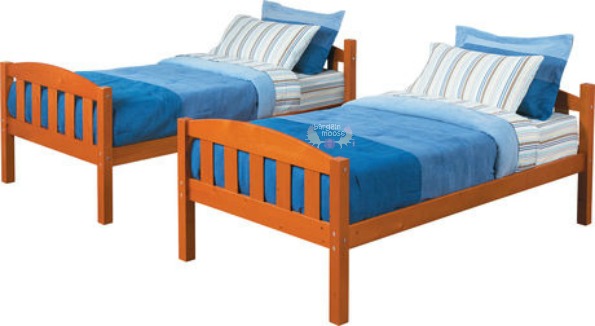 Walmart has a fantastic and frugal deal for those with many children who need to conserve space and sanity. Get the Dorel Twin Over Twin Pine bunk bed for only $178, originally $248. While the original price is already low, getting the price down below $200 is even nicer!
When my older boys, who are barely a year and half apart, were little, we decided to let them sleep in the same room to make an office out of the third bedroom. We needed a better solution for sleeping since their room was small. We actually found a bunk bed just like this for free on kijiji! We scooped it up but then found out it was broken so we couldn't do the bunk bed thing. Fortunately there was enough room to do the beds side-by-side and they looked nice because they matched. We still have these beds, but my crafty and handy husband has painted them to match the theme in their own bedrooms. They look really great. So, although this is a bunk bed, you could also use it as two separate beds now, or when the time comes and you are paying less than $100 a bed!
The bed is quite simplistic, but I like that. It has some detail at the head and foot boards, and there is a safety rail on the top bunk and a four step ladder for getting up there. You might like this bed for a kid who has a lot of sleepovers too, and it would be perfect for a cottage where you might get a lot of overnight guests. At this price, you can't fail.
Because this is Walmart, this item will also ship for free.
(Expiry: Unknown)