Walmart Canada: Sale On Tassimo Home Brewing Systems & Supplies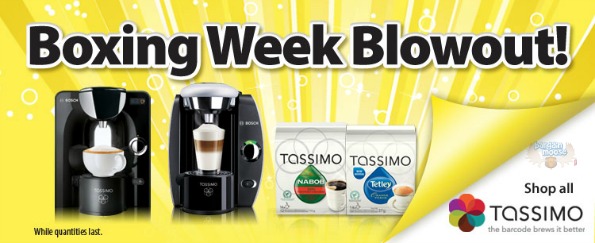 Walmart Canada has a sale on their Tassimo Home Brewing systems and many different packages of the disc refills. All prices are valid until December 31st 2012. Free shipping is also available for anything on the website, excluding some remote areas.
Out of all the home brewing systems on sale, I would definitely pick this Tassimo Single Cup Home Brewing System T46 that is on sale for $88. I found the same system at Canadian Tire for $119.99 and BestBuy, also for $119 and finally on sale at The Bay for $149.49, so I'm totally convinced this is a great deal!
There are many different flavours of your favorite coffee, latte, cappuccino, espresso, cafe crema, tea and hot chocolate available. These Tassimo Maxwell House Blend T-Discs-126g are only $6.87 and you get 16 T-Discs. You can also choose decaf if you prefer.
How about a nice cup of this Tassimo Twinnings Earl Grey Tea – 16 T-Discs that are also $6.87. There are tons of flavours of different teas to choose from and different sizes of T-Disc packages. Many of them are showing out of stock, so don't waste any time.
Shipping: Free
(Expiry: 31st December 2012)