Walmart Canada Photo Centre Promo Code: 3 Bonus 8×10 Prints With Purchase Of 50 Prints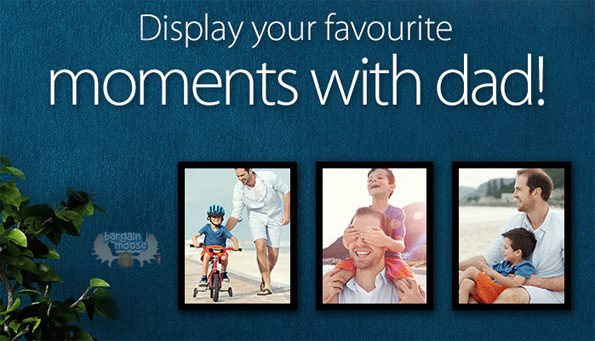 Got photos to print? Now is a great time to do so because Walmart Canada is offering 3 free 8" x 10" prints with purchase of fifty 4" x 6" prints.
Print your photos @ WalmartPhotoCentre.ca now
Coupon Code: 3BIGPRINTS
Discount: 3 free 8″x10″ prints with purchase of 50 4″x6″ prints
Expiry: 10th June 2014
This is actually the best promotion of it's kind that the Walmart Photo Centre has released thus far as past promotions have only included a maximum of two free 8" x 10" prints. Plus, anything free is always awesome, especially if the offer is tripled!
Needless to say, this would be absolutely perfect for Father's Day, especially for anyone on a budget and really, who isn't on one?! To make your gift even better, you could use your 50 printed photos to create a scrapbook for your dad. if you're not the most creatively inclined, then definitely check out "Father's Day scrapbook ideas" on Pinterest. To make it even simpler, but still as meaningful, you could purchase a regular photo album from Walmart and even have it shipped for free!
At $0.19 per 4" x 6" picture, your order of 50 pictures and 3 bonus 8" x 10" ones would come up to just $9.50 before tax. That's a pretty good deal considering that each 8" x 10" usually costs $4.97.
The cool part about ordering with Walmart in this way is that you can also fix photos if needed. Once you have uploaded the ones you want, simply click on each one to then be given the following options: edit by rotating or flipping, add effects such as normal, black & white, or sepia, crop or fix red eyes. Don't worry if you change your mind on any of these as you can easily revert back to the original without having to re-upload the photo.
Alternatively, you could also use the Walmart Photo Centre coupon code from the Bargainmoose forum to get a bonus 8x8" soft cover photo book with purchase of a 8" x 8" hard cover photo book.
Once the order has been placed, the pictures should be ready within the hour at your nearest Walmart store.