Walmart Canada: Musical Adventure Dora was $35 now $17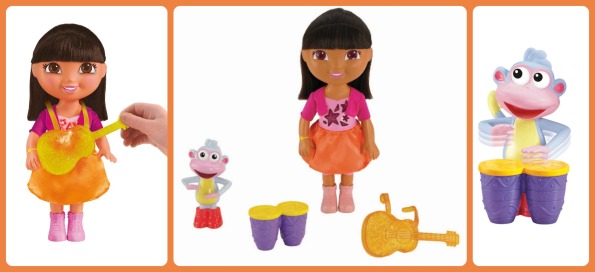 Dora, Dora, Dora the explorer! So many kids love Dora. If your little one loves Dora, then they're going to adore the Musical Adventure Dora that is on clearance sale at Walmart.ca. This doll was originally $34.94, but now you can have it for just $17. There are a few different ways to ship your item from Walmart.ca.
This Musical Advdenture Dora and Boots set is actually made by Fisher-Price, so you can bet that it is high quality and a lot of fun for the kids. The only other Canadian retailer that seems to have this toy is Amazon.ca, and with just one left in stock the price is $34.58. So paying $17 from Walmart.ca is a much better option if I do say so myself.
Together, Boots and Dora make a wonderful band. You can press on Dora's tummy to see her torso light up, and each figure is articulated for lots of different ways to pose them. They even come with a classical guitar, bongo drums and a microphone stand. How cool is that? This toy is best suited for children between the age of 3 and 5. I am sure that is due to the small parts. If you have a younger child, just take away the small parts like the extra clothing and the microphone until your child is old enough to play with it and not consume it.
While there are no reviews on Walmart.ca for this product, you can search the world wide web and find other retailers that have received feedback on this product. So far, all the reviews and feedback are positive for this toy which is definitely a bonus. I am always skeptical about buying toys that have a few bad reviews, where as this toy only has good reviews. Now I just need a daughter who would enjoy playing with this doll. My son is more into trucks and cars than TV show toys like Dora and Boots.
Walmart.ca has a few different shipping options to choose from. If you spend $50 or more, your item will be shipped right to your home for free. Otherwise you can opt for free shipping to your local Canada Post Office or local Walmart Grab & Go Locker for free with no minimum spend.
Moosers, do your kids love Dora?
(Expiry: Unknown)