Walmart Canada: Milano Wall Furniture System with Mount $100 (Save $48)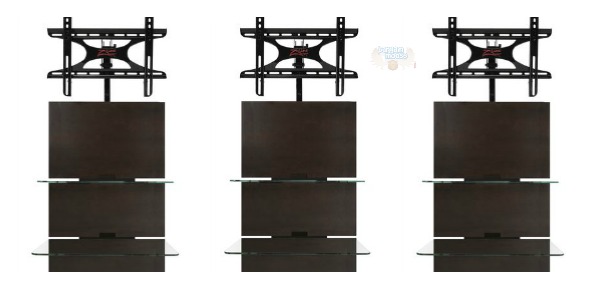 Walmart Canada is selling this sleek and compact Milano Wall Furniture System with Integrated Mount for just $100, discounted from $148. In my local stores, this unit actually costs $154 right now.
This is all you could want in an entertainment system.  The shelves are tempered glass and will display your brand new PS4, your old PS3 or Xbox, or whatever system you have along with games, ornaments and more. Evidently, though I cannot find it in the picture, the stand has a side storage compartment that is ideal for DVDs or Blu-Rays. The back of the stand has a deep espresso finish.
Attached to this stand and rising above is a TV mount that can accommodate most 26" to 42" flat panel televisions with a maximum weight of 80 lbs. The TV mount features a tilt mechanism for optimal viewing without straining your neck.
There are so many reasons why this stand is awesome. First off all: it is an all in one stand. You can have your DVD player and gaming consoles on the shelves, store your games and DVDs in the side compartment, and mount your TV on the top. Secondly, this unit gets your TV off a lower stand where it can be bumped into by children, pets, and even adults. It reduces the risk of damage to a very expensive piece of electronic equipment. Third, and this one is very important for renters, the stand appears to (correct me if I am wrong) elevate and mount your television without having to screw the mount into the wall. For anyone renting (I know this feeling all too well), most proprietors are not too happy about many screw holes in their walls - especially any at eye level. This stand eliminates the need to mount your television directly to the wall. It is also great for apartments where your TV wall happens to be concrete and you cannot screw into it.
While writing this I overheard my neighbor complaining that she woke up this morning to find her cat on top of her wall-mounted TV. Therefore, this unit might not be cat friendly if you have an ambitious little furball who loves to climb.
Overall, I think this is a marvelous deal on this kind of stand. You will also receive free shipping on this stand directly to your home. For such a large piece, that is nice.
(Expiry: Unknown)