Walmart Canada: LeapPad 2 Barbie Bundle Only $60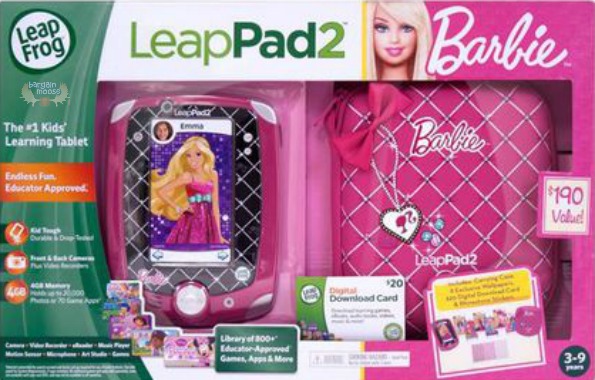 If you haven't yet made the dive into the LeapPad world, now might be the time with this deal from Walmart. Get the LeapPad 2 for only $50, was $ Get the LeapPad 2 Barbie bundle for only $60, was $80 at Walmart.
As I've blogged many times before, my kids have LeapPads. They actually have the first ones, and I spent well over $100 for each one, so this deal on the LeapPad 2 seems really good to me. Since it is the Barbie bundle, I'm going to assume mostly girls will want this one, or boys who love Barbie. Not only do you get the LeapPad, but you get so much more like a fashionable glam carrying case, eight glamourous wallpapers, rhinestone stickers, nine apps plus a $20 app card! That means you really only pay $40 for the tablet and case, which is seriously a phenomenal deal.
It looks like any other LeapPad 2s are sold out, and I see why, since they were only $50. This is your next best deal, and actually probably even a better deal with the addition of the bonus items and the app card, which you will inevitably use.
Read the review, which is very comprehensive and talks about how the reviewer's girls use the pad for school work and even for their French Immersion homework and learning.
Shipping is always free from Walmart, just as it is at all of the other stores on our free shipping page.
(Expiry: Unknown)