Walmart Canada: Lalaloopsy Babies Diaper Surprise Doll Was $39 | Now $17 *BUMP!*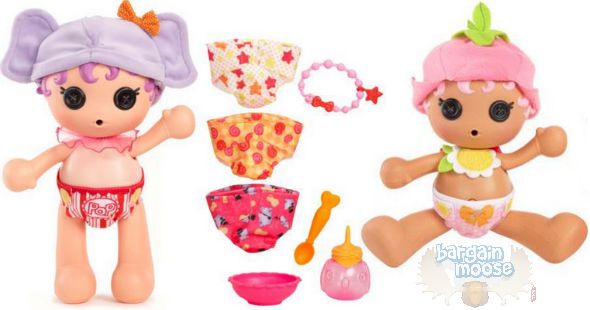 *BUMP! Now at a much lower price!*
You have got to love the Walmart.ca clearance sale items. I just came across this Lalaloopsy Baby Diaper Surprise Blossom Flowerpot Doll on clearance sale for a great price at Walmart Canada. This Lalaloopsy doll was originally $39 but is on clearance for just $17. Spend $50 and you will get free shipping too, but there are a couple other shipping options that won't cost you anything. There are two different dolls to choose from:
Little girls love baby dolls, so why not make things a little more interesting for your little princess? The Lalaloopsy Babies Diaper Surprise Blossom Flowerpot doll will allow your kiddo to see their favourite Lalaloopsy character as a baby, for just a portion of the original cost. Why spend $38.78 when you can snag this doll on clearance for just $17?
Just take a look at the price of these dolls at other Canadian retailers:
Your little girl can feed her new Lalaloopsy Babies water and then press on their belly "button". After doing that, be sure to check the Lalaloppsy Baby's diaper for a surprise. The diapers are even unique to each character. Each Lalaloopsy Baby even comes with the diapers, a bottle shaped like their pet, a pacifier, a hat, a bowl, spoon and a cute charm bracelet for your daughter to wear.
Don't worry, the surprise that is left inside the diaper is not gross. It is actually 3D charms with colour change patterns. Sounds a little unusual to put these "surprises" on a charm bracelet, but hopefully your daughter thinks nothing of that. I mean, I probably wouldn't wear magic "poop" charms that have been dug from the depths of a diaper. Aside from that aspect, these dolls are completely adorable. These dolls are best suited for children ages 3-5 years old.
Walmart Canada offers free shipping on orders over $50 too, so if you have two daughters then it may be worth snagging both of these dolls. Otherwise, if you are in the Greater Toronto Area then you can pickup your purchase at your closest Walmart Canada location for free using their Grab & Go lockers. Walmart.ca also ships to a Canada Post office for free.
(Expiry: Unknown)