Walmart Canada: Jack Wolfskin Yosemite II Tent On Clearance – Now $195 (Was $300)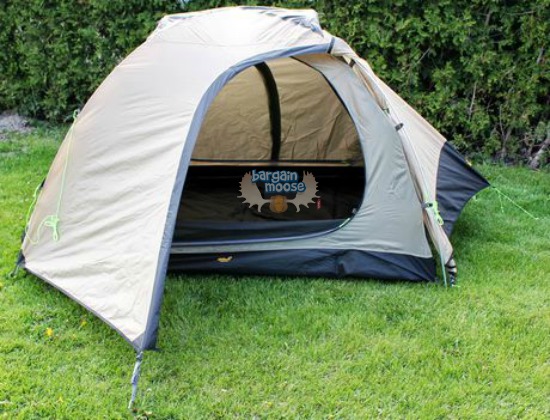 Here is your chance to scoop up a great deal on a 2-person Jack Wolfskin tent at Walmart Canada! While supplies last, this Jack Wolfskin Yosemite II Tent was originally priced at $300 and is now only $195.
This two-door, entry level tent is a great beginners tent. My husband and I started camping many years ago with a tent very similar to this. Of course as our family grew, so did our shelter, however our 2-person tent saw us through many trips to Algonquin, the east coast and various provincial and KOA style campgrounds.
Two features these tents offer that I feel you want to consider when shopping for a smaller 2-3 person shelter are storage pockets on the inside and a semi-shelter at the front.  Although these are not necessarily must-haves, these features make a huge difference when you are talking about drastically reducing the amount of living space you will be acclimatizing yourself to, even for a couple of nights. Small tents such as these don't offer a whole lot of space for gear etc., on the inside, and therefore you won't have ready access to your pack or storage bins especially late at night. So depending on where you've decided to camp,  having a few inside pouches to store flashlights and other small necessities that you will want to easily access from inside make a difference.
Also, I've always found that having a small privacy screen just outside your tent allows you to store a few more items close to "home" but not necessarily inside the tent. Again, you will need to take into consideration where you are camping and base what you leave in your tent or within arms reach on what wildlife resides nearby, however my husband and I would leave our footwear in this area and we also found this little fly provided just the right amount of privacy when getting changed that we could open up the tent door in the morning or at bedtime without feeling exposed.
Although I was unable to find very many price comparisons, you can see that Walmart Canada's price is a steal compared to the same model found at La Cordée where the regular price is $349.99.
Walmart Canada is also offering two other Jack Wolfskin tents on clearance. If you are looking for a roomier tent they are offering the same style but in a 3-person format for only
Shipping
As always with Walmart Canada, shipping is also absolutely free!
(Expiry: Unknown)