Walmart Canada: Imaginext Space Alpha Walker was $50 now $14!!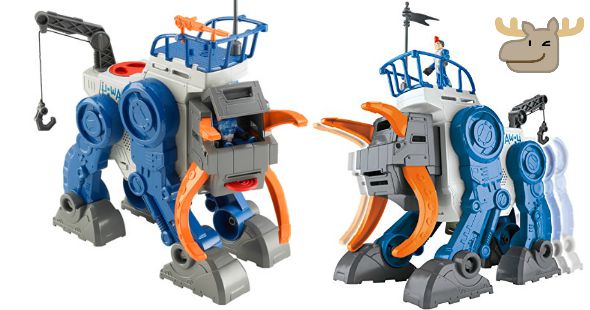 *Bump! This toy has had a price reduction again!**
Walmart Canada has updated their clearance section with more toys & good on sale. This is a great opportunity to snag some toys at great prices for birthdays or even just to keep your kiddo busy indoors during the winter weather. Right now you can get the Imaginext Space Alpha Walker for just $19 $14 on clearance sale, when it was regularly priced at $50. Walmart.ca has a few different shipping options as well.
Imaginext is an immensely popular toy brand, and you can probably see why. Their products definitely spark a child's imagination and provide endless hours of durable play. It is not very often that you see Imaginext items drastically drop in price, but Walmart Canada has the Imaginext Space Alpha Walker on clearance sale right now for just $19 $14. I probably wouldn't have purchased this toy for my son at the original price of $50, but this clearance price sure does tempt me.This is definitely the lowest price you are going to find on this particular toy. Just take a look at what some of the other Canadian retailers are selling this Imaginext Space Alpha Walker for:
$34.98 @ ToysRUs.ca
$45 @ Amazon.ca
$45 USD @ Fisher-Price.com
This Imaginext Space Alpha Walker is best suited for children ages 3 and up. Your child can stomp out invading aliens with their new Alpha Walker. This figure comes with a space trooper figure which can be placed in the driver's pit or "crow's nest" to be in charge. Then you just have to turn the disk to get the Alpha Walker to walk forward. He will even have his head moving side to side as he walks to be more realistic. In worst case scenario, you can fire disks at the invading aliens or even use the crane to capture them and bring them home. Your family house cat may not appreciate that feature haha. I know my son tries to use all sorts of nets that come with his toys to capture our cats. The cats might run when they hear the sound effects that this thing makes anyway.
Walmart.ca also has a few different shipping options, so do whatever suits you best. First, if you live in an area that has Grab & Go lockers then you can have this item ready for you to pick up at your local Walmart Canada location, which is free of charge. Second, if you don't have the Grab & Go lockers available to you, then you can have this item shipped to your local Canada Post Office for free as well. Otherwise you are going to need to spend $50 or more to get free shipping from Walmart.ca.
(Expiry: Unknown)