Walmart Canada: Big Joe Loungers Were $88 | Now $40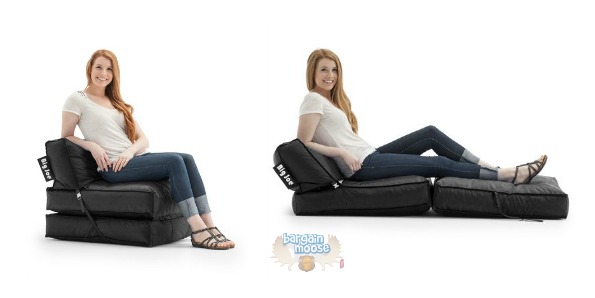 Walmart has a fantastic deal on lounge-type versatile bean bag chairs. On clearance, these chairs are regularly $88 and are now only $40. These would make a fantastic addition to a child's room, a gaming room or a dorm room.
This chair is actually really cool. It can either be a chair or opened up to a 6' lounger.It is filled with UltimaX beans, but when folded as a chair, it looks pretty sturdy and comfortable. There are three colours available:
These remind me of the futons I had in university when I was on a tight budget. I had one for a bed and one for a couch. These would be fantastic for someone with limited space because it could be a chair and a bed really, for overnight guests. I used to sleep at my friend's dorm room often and had to sleep on the floor with my blanket as she didn't have room to keep anything for me. Something like this would have been absolutely perfect. I could have sat and slept comfortably.
Similarly, this would be great in a child's room as a reading chair and then when they have a friend sleep over, the kid can sleep on the lounger.
The cover is made of a stain-resistant fabric, which is good as it doesn't come off, so you'll need to spot clean. There are two reviews on Walmart's site and both love these chairs:
Surprisingly comfy. Light, compact, durable and easy-to-clean material. I'm a 5'10" adult with a light frame and it works well for me; for reading, lounging, and even big enough to sleep on.
Both reviews did say they put extra filling in it, which is very easy to do and I think you can get that from Walmart. This item may sell out quickly, as its $20 counterparts did and I see that no store near me has any in stock.
Shipping is free if you spend another $10 or you can ship to a Canada Post location for free pickup.
(Expiry: Unknown)