Walmart Canada: 84% Off 6-pc Tombstone Value Pack Was $19 | Now $3 (EXPIRED)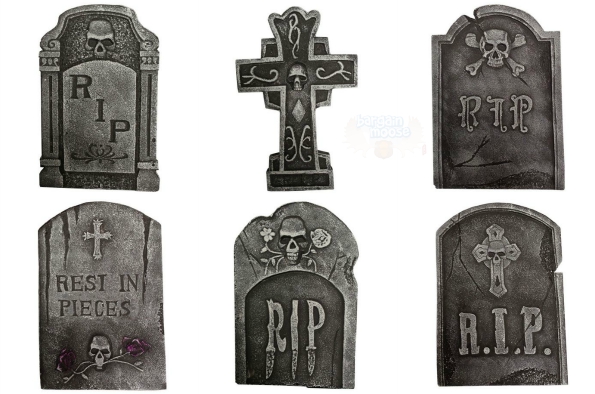 Halloween may be nearly three months away, but it is never too early to stock up on Halloween supplies. Currently, Walmart Canada has discounted this 6-Piece Tombstone Value Pack from $19 down to just $3. You can take advantage of free shipping to your local Canada Post outlet for this bundle of goodies.
These six tombstones will be perfect for decorating your lawn and getting you into the Halloween spirit. They could also come in handy for a Halloween, graveyard, Tim Burton, or other macabre themed party. You could even do a Tim Burton Nightmare before Christmas Party with these tombstones (and some pumpkins left over from Thanksgiving).
They might also work if you are burying a not-so-favourite relative and don't have the money for a proper tombstone (haha!).
At $3 for six tombstones, you are paying just $0.50 per stone. Now, the reviews are not the best primarily due to the included stakes for the Styrofoam tombstones. Evidently, the stakes are useless. However, a couple comments said they had success by just affixing the tombstones to their own wooden stakes. As one guy said:
They look good, but there is an issue with the stakes. I had to fasten them to my own longer, sturdier wooden stakes.
If you just use them with the included stakes, then you might only get one season out of them instead of two or three. However, at just $3 for the bunch, that is still a great price for some decorations you might only use once.
There are a few other Halloween deals to check out while you are shopping. This Bite N' Light Makeup Kit was $6.97, and is now $2. It is a great little kit if you are going to dress up as a vampire, which is one of my favourite costumes. Usually I buy the scarecrow vampire teeth that mold to your own teeth. Then I pair that with a cape, some black hair spray, a corset, and a long skirt. Easy vampire.
 Walmart Canada offers free shipping to your home on orders of $49 or more, but you can simply get these tombstones shipped to your local Canada Post location for free. I pick up all my parcels there anyway.
(Expiry: unknown)