Walmart Canada: 50% Off Playmobil Red Serpent Pirate Ship Playset Just $20 *HOT*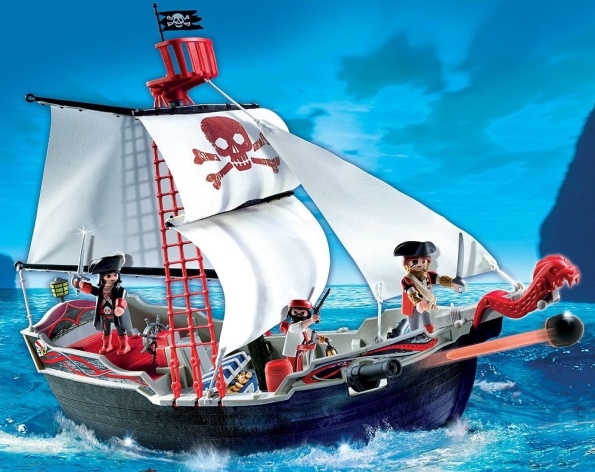 Ahhh! I love finding great deals on Playmobil products. Seriously, these toys are the best. They are usually so expensive though. Luckily, that is not the case this time. Walmart Canada has the Playmobil Red Serpent Pirate Ship Playset on clearance sale for 50% off. This little ship will cost you just $20, and the kids will love it. Walmart Canada has a few different options for shipping.
Playmobil toys are so much fun. I often enjoy hunkering down on the living room floor and playing with them with my kiddo. My son has a few different sets and they are all high quality and have provided hours of fun. This Playmobil Red Serpent Pirate Ship Playset should be no different, and for just twenty bucks it is a steal. This pirate ship toy retails for $40+ at other Canadian retailers, so I wouldn't wait too long to snag this one. Playmobil toys are popular and sell out super fast.
Inside the box you will find three Playmobil figures, the pirate ship, cannons, a treasure chest, lanterns, swords, and other pirate accessories, arr! It is time for you and the kids to set sail on a new journey aboard the Red Serpent Pirate Ship. The ship even has a detailed serpent masthead which is pretty cool. Some of the Playmobil ships even have room to add a motor which is totally cool for water play, though this ship doesn't seem to have that option.
The Playmobil Red Serpent Pirate Ship Playset has a total of 74 pieces. It is best suited for children between the ages of 4 and 10, though my 3 year old son has this one. I just took away all the super tiny pieces so they don't get lost or consumed. As he gets older I am sure he will have a toy bin designated to Playmobil toys. He already has about 8 different sets and I love that he can collect more and grow into them. He never seems to get bored of Playmobil, but I do wish the little pieces weren't so easy to lose.
Spend $50 at Walmart.ca and you will get free shipping. Otherwise you can opt for free shipping to your local Walmart Canada Grab & Go Locker or Canada Post Office with no minimum purchase.
Moosers, do your kids enjoy Playmobil?
(Expiry: Unknown)