Walmart Canada: $200 Off 8' Hardtop Gazebo - Now $398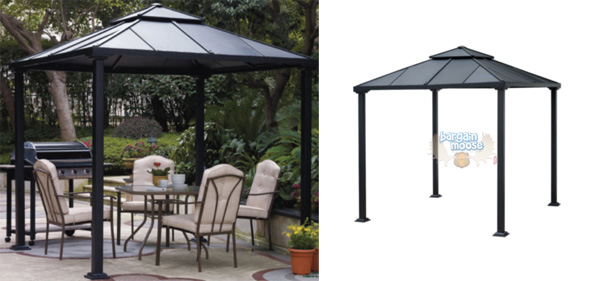 With moving season in full swing, if you're moving and your new place has a backyard (or if you already have one), then you're going to want a gazebo! Luckily, Walmart has a really good deal on an 8' HomeTrends square hardtop gazebo right now. For a limited time, you can save $200 off its original price of $598 and get it for just $398!
I'm actually moving into a place that has a backyard and I'm definitely tempted to get this gazebo because it's the cheapest one with a hard top that I could find. I searched for one at Canadian Tire and only found the Pavilion one on sale for $1,699.99 and while it's very nice, I definitely am not looking for anything quite that impressive. I also found the Crawford gazebo for $149.99 but it's not quite as sturdy as the one at Walmart as it comes with a canopy instead of a hard top.
Since Costco typically has very good deals, I had a look on there as well and the cheapest I could find is the Sojag Nevada 10' x 12' sun shelter for $969.99,and although it's slightly bigger, it's still more than double the price than the one at Walmart.
Some of you may find it daunting to get a HomeTrends product but this one definitely looks solid, especially since it features a heavy duty steel frame, along with a steel roof that is rust-resistant. Plus, I'm positive that no one will ever think to wonder about the brand of this gazebo, unless they really like it, which I'm sure they will as it certainly looks very elegant on the picture. In fact, here's what one reviewer posted about this gazebo a month ago:
Most economical hardtop gazebo I could find. Shipping took longer than stated but it arrived ( mail ordered ). I haven't finished putting it up yet but so far it seems well made. Very heavy so wind shouldn't be a problem.
Keep in mind that several people are needed to lift the top onto the posts and that come winter, it's recommended that you store it indoors.
Walmart is known for offering free shipping but I'm actually quite surprised that it includes this gazebo as well, especially since the overall product weighs close to 150lbs!
(Expiry: Unknown)