Home Decor Items From $5 On Sale @ Chapters Indigo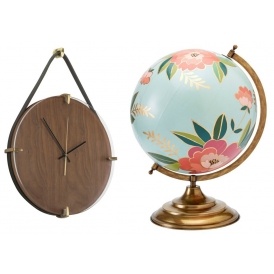 Though Christmas has come and gone, it's only 299 days before it's back again. But hey, who's counting? That being said, the best part of the post-holiday season is the great sale on Christmas supplies that comes shortly after. Chapters is doing just that, and more. Their current home decor sale covers not only Christmas decorations, but also a few timeless home accents. With discounts of up to 60%, and prices as low as $5, you're bound to be ready for Christmas early this year.
As much as I love the Christmas decor in this sale, I love this modern desk or mantle floating clock. That, of course, is not to say that I'm not completely obsessed with the cute line of felt animal ornaments. I'll be hanging those up early, and no one can stop me.
Saying goodbye to the holiday season may be heartbreaking, so we're glad that Chapters understand that we need to be slowly weaned from the decorations each year. Plus, from wreaths to clocks and mantle pieces, this little sale has exactly what you need to spice up and modernize your home, with or without Christmas in mind.
Shipping is free on orders over $25, so get to shopping!
(Expiry: Unknown)