Today Only! Anne Klein Trinity Satchel Was $120 Now $47 @ Hudson's Bay + Shipping (EXPIRED)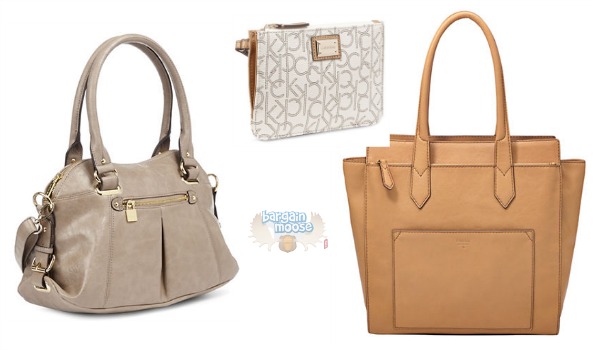 Check out the beautiful Anne Klein Trinity Satchel. This fab bag was $120 but is now only $46.80. Hudson's Bay is having a one-day deal on selected handbags, discounting them up to 70%. Other designers in this sale include names such as Calvin Klein, Fossil, Nine West, Ralph Lauren and more.
This chic Anne Klein Trinity Pleated Satchel is beautiful to use as an everyday bag. This bag was $120 but is now only $46.80. I have been a silver hardware girl for a long time but have recently been coming around to gold hardware. I love how the gold hardware looks with the "earth" colour of the bag. This bag looks almond to me, but either way the gold looks great. This handbag also comes with dual handles and a cross body strap so you can wear it a few different ways. It has a flat bottom and several zip pockets to help keep you organized. I always appreciate a bag with a flat bottom so it stays put when I set it on a table or chair.
I looked around the web and you will not beat the price on this bag elsewhere. Michaels.ca is carrying the Anne Klein Trinity Satchel online for $159.60. A similar size and style bag, the Bordeaux Croco Satchel is available at Town Shoes and is currently on sale for $96.  Amazon.ca has the Anne Klein Madrid Tote Bag that has the same vibe and colour as the satchel, but the price at $71.55. I would grab the satchel at Hudson's Bay instead.
Two people have reviewed this bag and they both seemed happy. One reviewer just said it was lovely. The other said:
I bought this bag for my mother in law and I am positive that she will love it. Going to the bay to buy a scarf and gloves to put in it and she will be all set for a day/night on the town.
Sounds like a great little bag. Maybe I should pick one up for my mom for her birthday.
Hudson's Bay has a couple other great bags on sale up to 70% off today only. Another great bag to check out is the Calvin Klein Monogrammed Zip Wristlet. This slim little bag was $78 but is now only $35. A friend of mine has a tote bag in the same print as this wristlet. I have been eyeing it at the library and at our playdates lately. The pattern's colour is gorgeous in the almond colour, though it also comes in a brown also. I like keeping around a wristlet or two, it helps keep all of my essentials together. You can easily grab and go with into a shop with just the essentials while still keeping your money close.
Free shipping is available if you spend a minimum of $99. I personally could drop that easily on one of the larger totes or by grabbing more than one bag. If you do not hit the minimum of $99, shipping seems reasonable at around $6 per item for most items.
(Expiry: 6th February 2015)