The Bay Canada: 1 Day Sales Nov 22 - Dec 23 (EXPIRED)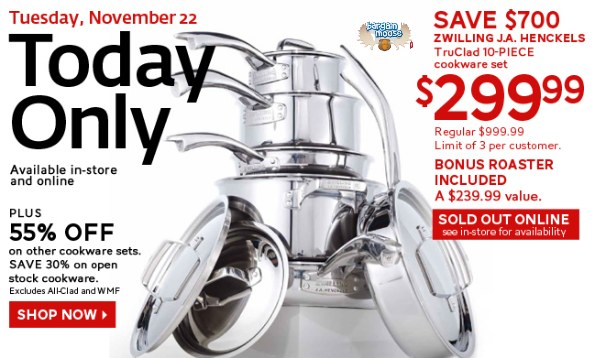 The Bay Canada has started it's one day sales that lead up to Christmas. These deals are all about massive discounts on the stuff you need and want.
Unfortunately Moosers, today's deal is already sold out. It was just SO popular - and these deals start at midnight. The deal was $299.99 for a Zwilling J.A. Henckels Tru-Clad 10 Piece Cookware set. The set retails for $999.99 regularly. When you think about it, that is an incredible deal - 70% off such a massive set.
What you still can get is 55% off on other cookware sets (some exclusions apply) and 30% off on open stock cookware. Only for today.
So this is your heads up my dear Moosers - be prepared! The next 1 day only sale item should come up midnight tonight and if you are in need of anything the Bay has, be sure to check it out!
One day deals at The Bay run from today through December 23rd.