Spend Less Than $60 To Stock Their Dorm Room @ Walmart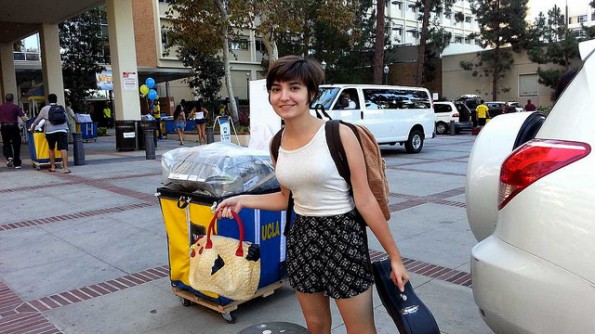 Being a mom of three, I'm all about back to school. I love having my kids home, but when September comes sometimes it can be a tiny sigh of relief for getting back to a schedule. One thing I am not looking forward to is sending my kids off to college or university. I'm sure it will include lots of tears for this mom. If you are sending your kid off, you want to make sure they have all the right tools and equipment to be almost as happy as they are at home. You don't want them to be too happy though, or they won't be coming home on weekends! For under $60, you can outfit their dorm room with what they'll need!
With your little spawn heading off to school, I'm sure one of your biggest worries will be that they eat right. When I was in university, many of my main meals consisted of oranges and popcorn and sometimes a can of tuna. You want to make it easy for them to prepare meals, as they'll be busy studying (or socializing). Walmart seems like the go-to place for these items, as they had the best deals on everything I checked.
This Hamilton Beach single serve blender is a fantastic deal, regularly $17.97 and on sale for $11.97. I found this at other stores for varying prices, all the way up to $24.99. This will help them get in a healthy breakfast or snack. It might also help them mix alcoholic blender drinks, but hey, you have to expect a little of that.
A rice cooker is a fantastic thing to have when you don't have access to a stovetop or oven. This Black and Decker 6 cup rice cooker was $19.96 and on sale for $14.96. I found it selling elsewhere for up to $40.
They can't cook their ramen noodles (a staple of university life) without a kettle. This Sunbeam 17-litre electric kettle was $17.98 and now $13.88. Think of the money she'll save on Starbucks by being able to brew her Tazo tea right in her dorm room before class as well. While I couldn't find this exact kettle anywhere else, I also couldn't see another kettle selling for under $30.
After they eat, you hope they'll take the lessons you've sent them with and clean up. With very little storage in a dorm room, they can't have a full-size vacuum, so a nice little Dirt Devil quick power hand vac should do the trick. Regularly $24.96, it is on sale for $18.94. I again couldn't find this exact model, but these sell for at least $25, so this is a great price.
Your total price for these four items comes to $59.75, which means you'll also get free shipping from Walmart.
Photo credit: Nac!
(Expiry: Unknown)