Sears Canada: Little Tikes Classic Racing Tire Toy Chest Just $60 + Free Shipping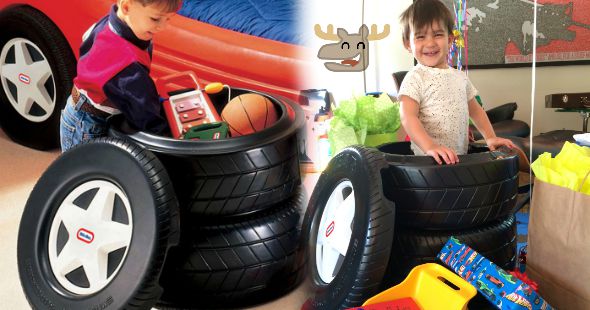 Unique toy boxes are few and far between. We have been on the hunt for a cute boy-themed toy box for my kiddo's room for several months now, and I think I have just found the perfect candidate. The Little Tikes Classic Racing Tire Toy Chest will cost you just $59.99 from Sears.ca, which is a fantastic price for what it is. Plus when you spend $49 or more you will get free shipping right to your home.
While there doesn't seem to be a regular price listed for this particular Little Tikes Classic Racing Tire Toy Chest, I am about 99% sure that this is in fact a discounted price. By shopping at Sears.ca you can snag this unique toy chest for just $59.99. The only other Canadian retailer who carries this product is Amazon.ca who has a hugely inflated regular price of $291.47 which I am sure nobody would ever pay for this toy chest. But the interesting thing is that even US retailers have this item listed for a higher price.
Take a look at the American pricing on this item at a variety of retailers:
$79.99 USD @ Walmart.com
$74.99 USD @ LittleTikes.com
This has got to be the coolest multi-purpose toy chest I have seen. The lid comes off and when you flip it over, it has a little speed way made into it for hot wheels or other similar size cars. The racing tire design will make it suitable for any little boy's room, especially if they have the car bed like my son does. This would also make an adorable laundry hamper if you already have a toy box for your child. It is about 20 inches high by 20 inches wide to give you an idea in size. Your little guy should enjoy cleaning up his toys with this fun new toy box!
Sears Canada used to offer free shipping when you spend $99 or more, but I am happy to see that they have reduced that minimum spend threshold to just $49. That means shipping will be included with this unique Little Tikes Classic Racing Toy Chest.
(Expiry: Unknown)