Sears Canada: Craftsman 21" Snow Blower For $349.95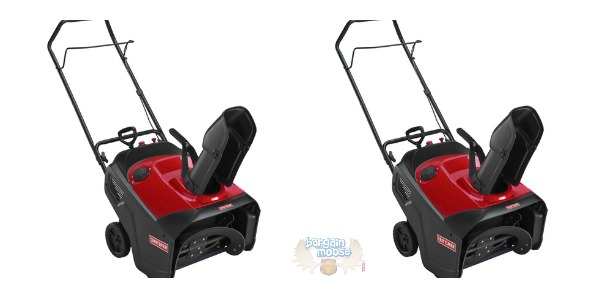 Sears Canada is selling the Craftsman 21", 208cc single stage snow blower for $349.95, (50% off regular price).  Sale is valid until January 3rd 2013 or while quantities last.
This features an electric starter, one speed, 8" serrated auger for harder snow, 8' X 1.75" brick tread tires, a curved handle for comfort, can be assembled easily and comes with a 2 year limited warranty.
I was recently helping a friend look for an affordable snow blower for their home and I was very surprised to see just how expensive they can be.  This particular model was one we found at different locations, but for a lot more money.  I found this recently on the Craftsman.com website listed for $599.99, and that's on sale!   I also checked out some other stores such as Home Depot.  They didn't have this particular make of snow blower, but the items I found that were comparable were all around the $600 mark, so I'm convinced that this is an awesome deal.
I also discovered that if you ever need parts for this snow blower, they're quite popular and easy to find. The reviews were quite good, recommending this for the average home owner use.
Shipping: Depends on location (only $3.95 to ship to pick up location)
(Expiry: 3rd January 2013)